The Different Types Of Shag Rugs
At least, everyone needs a rug when it comes to a home interior decoration project. Rugs are not only beautiful, but they also add some warmth to the room and bring the personality of the owner. The type of rug that you choose defines who you are apart from beautifying the place. There are many types of rugs. The shag rug is among the vintage rugs that are now making a massive comeback in the market. It existed back in the pop-art period of the '60s and the '70s, and judging from its popularity, it seems that it is here to stay.
Shag rugs are made from a variety of materials, such as nylon, cotton, polypropylene, and even acrylic, that are also easy to wash. The good thing is that they come in so many shades of colors that will suit everyone. Their texture and appearance consist of strands of knotted materials. The strands are either long or short or a combination of both. They make the shag rugs look similar, regardless of the material used in the manufacture.
There are many types of shag rugs as discussed below:
Flokati is a type of a rug that was once worn as clothing by travelers and warriors in ancient Greece. Today, it is precious, and much sought after by rug lovers who prefer to step on something as soft as a cloud. Nowadays, the Flokati rug is made of wool from Greece and New Zealand sheep.
Just like the Flokati shag rug, Aros rug is also made from wool acquired from New Zealand sheep. Thus, its texture is less the same as that of the Flokati. However, the manufacturing technique is different, thus giving it a unique appearance.
To give you a mental picture of how this rug looks like, I want you to imagine a rug that is made out of faux fur. Now, imagine the love fur shag rug is better than that, and tell me exactly what you have in mind for this type. It is made of acrylic. It makes it more affordable than the other types of rugs.
It is made out of cow skin or suede, or sometimes, from a combination of both. This type is somehow new in the rug market, but it has already made its way to the hearts of those members of the society who deem themselves more advanced and refined regarding taste. The leather shag rug will cost you a little more than the other types of rugs given that it is made of actual Cowhide.
The Cotton Jersey Shag Rug
This type of rug is commonly known as the shaggy rug owing to its appearance. Its appearance is denser because it is made from short and thick strands. This type of rug is cozy and comfortable to sit or step on.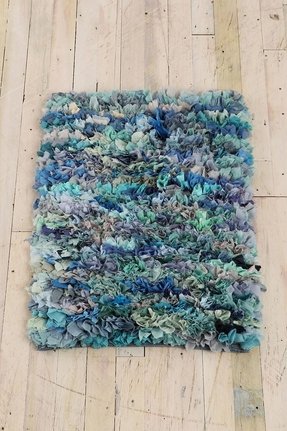 The above are some of the types of shag rugs available in the market today. If you do not have one of such in your home, it is time to go out and shop for a shag so that you are not left behind by the current rug trends.